Studied across various fibroid sizes and locations and uterine size
Selected patient characteristics at baseline in ELARIS UF-1 and UF-2 (N=790)1,3-6
Evaluated across
multiple endpoints
The proportion of women who attained both menstrual blood loss (MBL) volume less than 80 mL at the Final Month* and 50% or greater reduction in MBL volume from baseline to the Final Month*
Ranked secondary endpoints1,3:
Change in mean MBL volume from baseline to Months 1, 3, 6, and Final Month*
Number and percentage of women with Suppression of Bleeding (defined as no bleeding, but spotting allowed) during the Final Month* of treatment
Number and percentage of women with baseline hemoglobin

≤10.5 g/dL

who saw an increase of >

2 g/dL

at

Month 6
ORIAHNN met the primary endpoint and all 6 ranked secondary endpoints in its pivotal trials3
In two 6-month Phase 3 clinical trials (ELARIS UF-1 AND UF-2) including women aged 25-531
Control her heavy bleeding due to fibroids
Proportion of women who met the primary endpoint at Final Month1*
Quick and continued
bleeding reduction
Over 50% bleeding reduction at Month 1 and continued reduction seen at Months 3 and 62
Results from placebo-controlled ELARIS UF-1 were consistent with those observed in ELARIS UF-2.
Regardless of her characteristics, ORIAHNN controlled her heavy bleeding
Proportion of women who met the primary endpoint in ELARIS UF-1 and UF-24-6
The subgroup analyses of the primary endpoint was not a ranked efficacy endpoint and was not powered for statistical significance3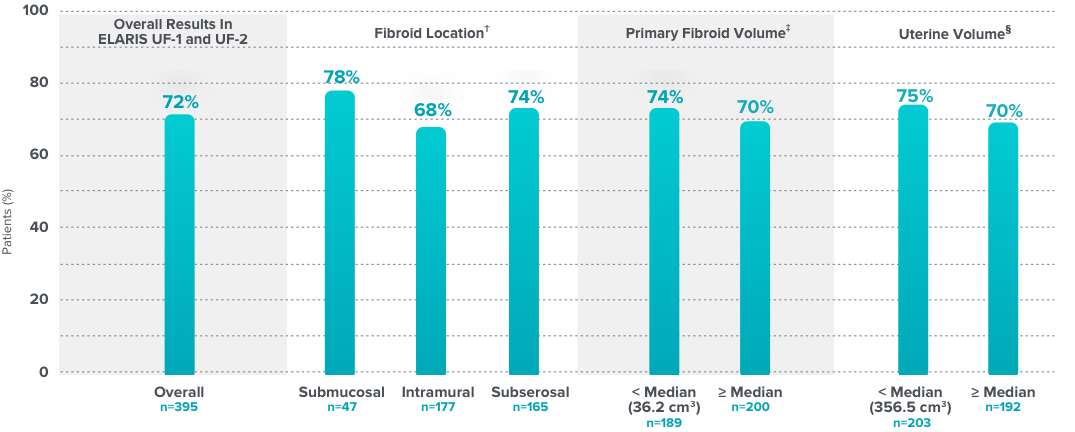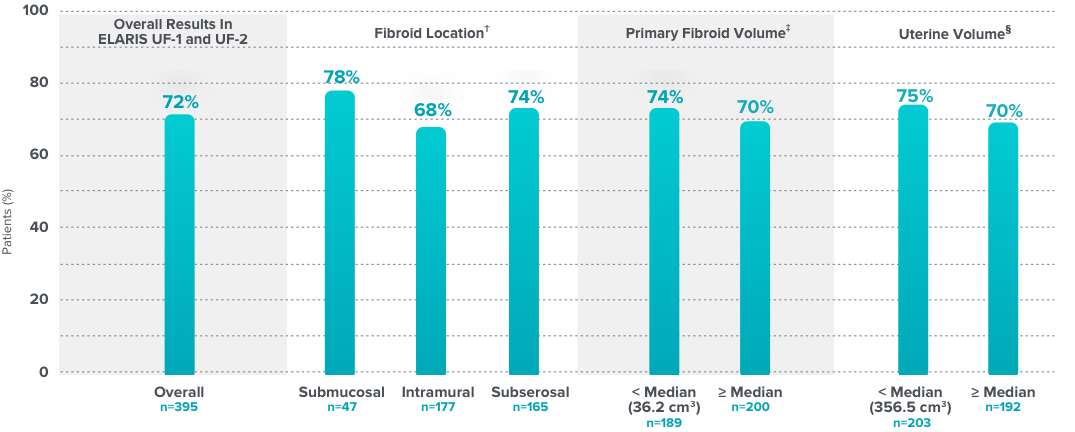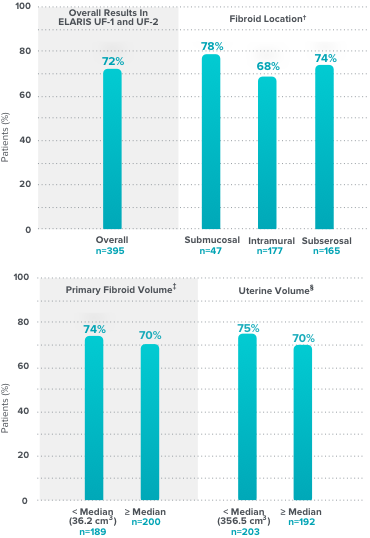 Baseline patient characteristics
FIGO score=The International Federation of Gynecology and Obstetrics score for classifying leiomyomas.
*Final Month is defined as the last 28 days before and including the last treatment visit date or the last dose date.
†Submucosal: FIGO score 0-3; Intramural: FIGO score 4; Subserosal: FIGO score 5-8.
‡A uterus that is 14-16 weeks in size is approximately 355 cm3-460 cm3.